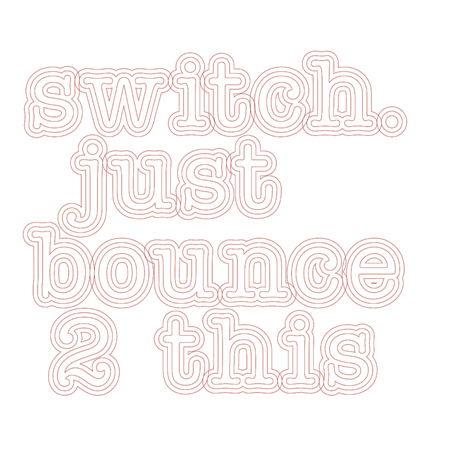 Switch
Just Bounce 2 this
It's been a while since their last single but now they're back, and there's no doubt they're hitting top form! The Switch boys take time out from their hectic remix schedule (inc. Basement Jaxx, Jentina, Faithless, Shaznay Lewis to name a few) to deliver what looks set to be another killer underground club smash! Following on from last years deep, dark 'n' dirty Get On Downz, Dave 'Solid Groove' Taylor and Trevor Loveys turn the jackometer up to 11 with the outcome being Just Bounce 2 this.
These guys are clearly trailblazing a new sound with their twisted, funked up beats and production that defies the science of digital audio (very loud!!). Everyone loves 'em too. The list of supporters of previous 12's reads like a who's who of underground dance music!
In Freerange style we like to offer a little something for everyone so flip over for 2 different takes on the previous singles Get Ya Dub On and Get On Downz. For those feeling the straight up funky west coast sounds check out Fred Everything's pumping take on Get Ya Dub On. Crisp, shuffling beats and a deep electronic bassline will ensure the commencement of booty shaking!
If dark, minimal, abstract electronics is your bent then head for the amazing Max Fresh interpretation of Get On Downz. This mix draws you in with a sublime simplicity that only a true master of his game can achieve. For those unfamiliar with Max Fresh we should start by saying he's one half of legendary drum n bass dons Hidden Agenda. If that's not enough to whet your appetite then check out his EP's on Zest and upcoming Max Fresh stuff for Loungin'.
FR054
£4.49