Audiomontage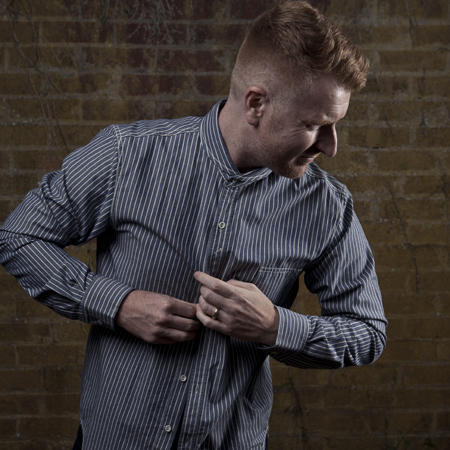 Jamie Odell aka Jimpster and Audiomontage has been producing, remixing and DJing for the last 17 years and co-running his Freerange Records (voted Best British Label 2007) label for the last 13 of those. His musical upbringing and early introduction to production and DJing have helped him forge a sound that is at once warm and deep as well as being innovative and club friendly.
His seminal Jimpster LP Messages From The Hub (1997), as well as his more dancefloor orientated Audiomontage 12"s really helped establish Jamie as an artist of some merit and he quickly became in regular demand as a remixer (over 65 at the last count!) and co producer on a wide range of underground projects. His third Jimpster LP Amour was released 3 years ago on Freerange to excellent critical acclaim and appeared in numerous published Top 20 LP's of the year charts. In recent years he has released his first original track for another label, choosing Ben Watt's Buzzin' Fly for Square Up which became a big underground house track sitting in the top 5 of DJ Mag's Hype Chart for 2 months. His most popular 12"s for Freerange include Dangly Panther, which was nominated for Best Dance Single 2008 in the coveted DJ Mag Best Of British Awards, and most recently the lush grooving deepness of Sleeper.
Recent artists to get the Jimpster midas touch in the form of a remix include Osunlade, Bob Marley, Joris Voorn, Seal, Mark Knight & Funkagenda, Marc Romboy, Solomun... the list goes on. Jamie has also built up his reputation as a highly regarded dj in the UK and around the world. With an emphasis on the deeper end of electronic house music, but not afraid to stray from the path, he retains an old school approach that has seen him booked for gigs as diverse as Fabric (London), Panarama Bar (Berlin), Cocoon (Frankfurt), Cielo (NYC), Yellow (Tokyo), Pacha (Ibiza), Crystal (Istanbul), GOA (Madrid) and Back To Basics (Leeds), and AKA & The End (London).
For up to date news and gig schedules visit:
http://www.myspace.com/jimpster
For bookings contact Kim Benjamin @ Kimco
Entertainment: kim@kimcoentertainment.com
Kimco Entertainment, Inc
Margaretenstr. 43
20357 Hamburg
Tel: +49 40 419 10727
Fax: + 1 212 504 8314
Mbl: +49 179 479 6603
Selected Releases:
Jimpster – Dangly Panther
Jimpster – A Love Like This
Jimpster – Square Up –(Buzzin' Fly)
Jimpster – Amour LP
Jimpster – Domestic Science LP
Jimpster – Messages From The Hub LP
Audiomontage – Fun Kit EP
Audiomontage – Naughty Neighbour EP
Audiomontage – The Darkness / The Lightness
Audiomontage – Heaven / Movin' On
Audiomontage – Flying High / Fly Baby
Selected Jimpster remixes:
Osunlade – Momas Groove – Strictly Rhythm
Copyright feat. Mr V. – In Da Club – Defected
Motorcitysoul – Aura – Stir15
Joris Voorn – The Deep – Rejected
Marc Romboy – Elif – Systematic
Mark Knight & Funkagenda – Shogun - Toolroom
Solomun – Tall Story - DIYnamic
Sandy Rivera – Freak (Defected)
Akabu – Not Afraid Of The Phuture (Z Records)
Chuck Love – Livin' At Night (Om)
Kiko Navarro – Siempre (Pacha)
Delano Smith – Message For The DJ (Still Music)
Iz and Diz – Love Vibe (Aesoteric)
Ken Ishii – Awakening (Exceptional)
Fred Everything – Not A Club Song (2020 Vision)
Hipp-e – Blacker Than (Nightshift)
Lisa Shaw – Let It Ride (Naked Music)
Charles Webster – Be No-One (Peacefrog)
Swag – Drill Bit (Odori)
Switch – Get Ya Dub On (Freerange)
John Beltran – Felicidad Nova (Ubiquity)
Georg Levin – When I'm With You (Sonar
Kollektiv)
Coldcut – Rubyat (Ninjatune)
Lamb – Gorecki (Fontana)
Airto Moriera – See Ya Later (MELT 2000)
See All Artists