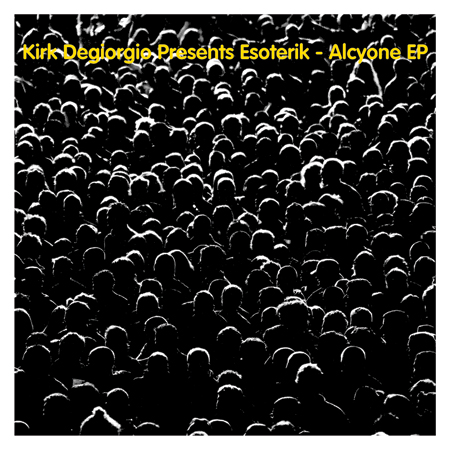 Kirk Degiorgio presents Esoterik
Alcyone EP
We love Kirk Degiorgio here at Freerange so we're very proud to have him on board for his debut EP with us under his Esoterik guise. As one of the founding fathers of the UK techno scene, Kirk's discography is staggering especially when you think about how he's stayed so true to himself and remained focus on what he does best – deep, atmospheric, soulful techno.
So here we have 2 slices of said deepness in the form of Alcyone and Tau Ceti. This is simply lush, machine music made with a lot of tlc from an original master of his game. Stick it on your hifi whilst tripping or blast it on your car stereo whilst hurtling along at 4am for maximum impact!
Taking things to the dancefloor we have our favourite stateside wunderkind Jake Childs stepping up for remix duties, and crikey, has he delivered! Houston based Childs has recently been dropping killer tracks like his life depended on it for labels such as Drop, Seasons, Om and Tango to name a few. We've found him in top jackin mode taking Alcyone into a stripped back, boompty groove which will thrill and delight the revellers at your local acid house night. Deep, dark but above all dirty!
FR064
£4.49
More by Kirk Degiorgio presents Esoterik